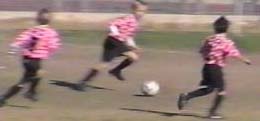 Over the past two decades soccer has been one of the fastest growing team sport for boys and girls in America. The quality of some of the existing soccer programs for children, however, is a source of growing concern. The available research findings on youth sport provide very clear guidelines to better serve children's, as opposed to adults' needs.
The purpose of this Website is to promote a child centered approach to the organization and instruction of soccer (Note that the materials presented in this website apply to all youth sports programs). Special emphasis is placed on the promotion of the game of soccer as a life-long, family oriented activity, that provides for child-parent bonding, team work and friendships, as well as, adequate aerobic exercise. This is a message from a sport psychologist and a former soccer parent to fellow soccer moms and dads.
Child and parent stories and comments that we can all learn from (please e-mail those to dfrankl@calstatela.edu

Parent/Coach Question of the Week Archive
Evaluating Coaching Performance: How are you doing?
Coaching Performance Evaluation Form
The Kids First Soccer site is a "PE Award" recipient by a panel of physical education and coaching professionals.

The Soccer Patch -- a place for soccer fans of all ages to view soccer patches and pins and represent their teams, towns, and tournaments.
KinderStart.com is a large and very popular indexed directory and search engine that focuses on children zero to seven on the Net. The site's mission is to provide parents, grandparents, foster parents and teachers with a well organized, and easy to use index and search engine.
The content in this site as well as the professional advice and consulting services to parents and non-profit organizations are provided at absolutly no charge. I have resisted any partnerships that required any restrictions on my free access policy to this site's content.

The "Kids First Soccer" website is operated from California (Los Angeles area) and there is no physical site or soccer camp associated with it at this time. I manage the Kids First Soccer website from my office at home or my office at California State University, Los Angeles where I am a professor of Kinesiology.
I can answer soccer specific, physical fitness, nutrition, sport psychology and other questions in case you have any. That's the extent of services I provide free of charge through the Kids First Soccer website.